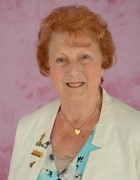 Patricia
Lupino Thompson
Director Emeritus
Fellow and Theatre Branch Examiner
Always aware that she is a descendant member of the famous Lupino family, Pat has been a member of the IDTA since its amalgamation with the Empire Society, and previously was a full member of the Empire.
During her time as a vocational student at the Nina Hodgson School, she also had Ballroom lessons. Several years in showbiz followed with Prince Littler and George & Alfred Black (the Andrew Lloyd Webbers of the day), then onto being head of The Lupino School of Dancing in Bury.
She enjoyed many successes with pupils, including; IDTA Scholarship winners, Championship titles, West End productions, contracts with major Ballet companies and pupils working abroad and on cruise ships. Now there are many previous pupils, Members, Fellows and Examiners of the IDTA with successful schools themselves.
Pat has held many successful positions in the world of dance and has worked as a Director on the board of the IDTA for over 15 years. Pat is an IDTA Examiner, Adjudicator and Lecturer for British Federation and All England. She is also the organiser of the annual IDTA Theatre Dance Festival, Director of the All England Dance, and a member of the Royal Academy of Dance.
Pat was a recipient of a Theatre Carl Alan Award and the Classique de Danse Awards in 2007. In 2013 Pat was honoured and delighted to receive the Distinguished Service Award from the IDTA.