STEPPING INTO CREATIVE MOVEMENT & DANCE CD
This CD will enhance any junior ballet class. 'Stepping into Creative Movement & Dance' is exactly what it says on the label - 22 different themes to explore in class.
including VAT 20.00 % (
£2.92
)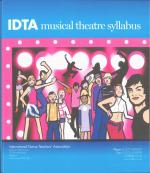 MUSICAL THEATRE SYLLABUS IN RING BINDER + CD
IDTA Musical Theatre Syllabus Ring Binder, contains the syllabus for Group Examinations, Introductory and Stages 1-6, Rosette, Stardance, Medals, Performer's Certificate and Diploma. This includes Ring Binder + CD mts together..
including VAT 7.848 % (
£2.23
)