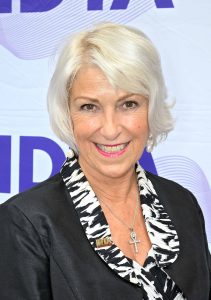 Anna
Heinrich-Jones
Director 2023-2024
Fellow and Ballroom Branch Examiner
Anna is a Fellow, Examiner and Past President of the Association. She started her dancing career at an early age and for the first few years centred around Ballet and Stage. A deep love of Latin American and Ballroom then developed as she followed in her parents' footsteps. Anna's roots with the Association go back to childhood days. Her father, Henry Goodall, was a founder member in the Midlands many years before the merger which created IDTA, as we know it today. A very successful Latin American career then followed. She won many championships and was a member of the British team. She retired from the competition floor to concentrate on her school to which Anna devoted many years as a full time professional. Her studio in the West Midlands catered for many forms of dance. Anna's personal involvement included the full range of teaching from first-time beginners, all grades of medallists and competitors plus professional coaching in Ballroom, Latin American and Freestyle.
She has travelled extensively, coaching, adjudicating and lecturing at home and abroad. Anna has had many years of experience of committee work including Board of Directors since 1996 having been President for six terms of office and she has been Chairman of the IDTA Freestyle Faculty many times. During her first term as Chairman she produced the book and video entitled Freestyle Dance which has been adopted by the Association to cover this form of dance. More recently Anna has written the follow-up book Advanced Freestyle which has been widely acclaimed. Anna also has experience of being a member of the Finance & General Purposes Committee, Overseas Development Committee and London Meeting & Congress Arrangements Committee. In 1996 and 2003 she was the proud recipient of a Carl Alan Award after being nominated by IDTA, and in 2015 Anna was delighted to have been given the Carl Alan Lifetime Achievement Award in 2015 and 2021. Anna has also received the IDTA Distinguished Service Award, she was also the joint recipient of the Millennium Lifetime Award for Outstanding Achievement and Continued Excellence in Freestyle Dance. Anna holds a degree in Dance Teaching and has a post graduate diploma in Medical Microbiology.
She believes strongly in the future of the International Dance Teachers Association by listening to the needs of its members and embracing innovation in order to keep ahead in the ever evolving world of dance.