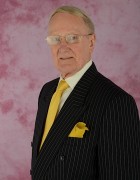 George
Coad
Financial Director 2022-2023
Financial Director
George was first elected to the Executive Council in 1978 and has served continually since on what has now become the Board of Directors. He controls, with his wife, Pat, the running of the Thompson Dance Centre in Maghull, near Liverpool, together with full and part time staff numbering, between ten and twelve people. Over the last 40 or so years they have trained many thousands of medallists and professionals through the school.
George started his business career by training and dealing in the London Stock Exchange and later moved north to become northern agent for the sale of the merchandise of three large manufacturing companies, during which time George and Pat had a distinguished competitive career, winning the British Open, World, European and many other major amateur and professional titles. When they eventually retired from competing George gave up all his business connections to concentrate on the dancing profession.
Involved as he is with a great deal of international work, during his Presidency in 1997/98 he established the Publicity Committee to promote IDTA at home and abroad. In July 2002 George was appointed Financial Director and chairman of the Finance and General Purposes Committee. He is also a delegate to the British Dance Council and World Dance Council. Having originally qualified only with the IDTA, he is a devout worker for the future success of the Association and considers loyalty and reliability to the service of members a number one priority for all Directors.