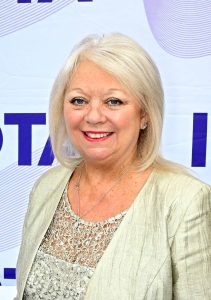 Linda
Cook
Immediate Past President 2022-2023
Fellow and Theatre Branch Examiner
Linda has been a member of the IDTA for 42 years, holding fellowships in all Theatre genres and has led a highly reputable and respected career as a performer, teacher, adjudicator, lecturer, choreographer and examiner. She is recognized as a leading exponent of jazz dance and has been innovative in her approach to Modern Jazz.
Her dancing life commenced at the age of 3 years taking classes in Theatre, Ballroom and Latin. In her teens she pursued a varied stage and cabaret career spanning 10 years as a singer/dancer, performing professionally all over the UK.
In 1989 she was appointed as a Theatre Examiner for the IDTA. Linda travels extensively in the UK and abroad examining and lecturing. Her experience includes lecturing at the IDTA London Congress, Area Meetings, Move It , International Theatre Dance Awards, Leicester Seminar, workshops worldwide and has been privileged to adjudicate Miss Dance of Great Britain twice. Her dedication is to encourage our stars of the future.
She has also served on the Modern Jazz Faculty for 16 years and is responsible along with her colleagues for the technical syllabus used by IDTA members worldwide.
Linda is one of the IDTA's delegates to the Theatre Dance Council International and was President of the TDCI from 2012-2014. This opened up the complete world of dance and enabled her to meet colleagues from other Associations, together promoting the world of dance. During her time as President she took over the role of hosting the prestigious Carl Alan Awards, this year will be her fourth year hosting this successful event. Linda has been nominated in two categories for the prestigious Carl Alan Awards, and was delighted to receive the Carl Alan Award for Outstanding Services to Dance 2014.
With the TDCI she is also on the organizing committee for the British Championships, English Championships and National Championships.
Teaching has always been her first love and for many years has specialized in teacher training and is extremely proud of pupils who are now fellow examiners of the IDTA. Alongside her dancing profession she is also proprietor of a large children's Day Nursery employing fifteen staff.
Linda has devoted her life to the IDTA and the world of dance and looks forward to serving all members, working actively to keep up with modern trends and member needs with enthusiasm, dedication and commitment, whilst always keeping a 'sense of humour'.