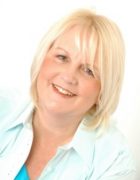 Lynn
Armsby
Director 2022-2023
Fellow and Ballroom Branch Examiner
Lynn started dancing at the age of nine with her brother Keith Clifton. Later she won the British and European Latin Championships with her partner Alan Armsby and was a member of the British Team. She is proud to be the auntie of Strictly Come Dancing stars Kevin and Joanne Clifton.
Following a successful period of teaching in the competitive scene, Lynn and Alan spent many years performing and teaching on cruise ships. This work extended Lynn's knowledge of other forms of dance and she became a successful choreographer on board some of the world's finest cruise ships.
Lynn opened her own school in the UK in 1990, and this is still successfully operating today. She became an IDTA examiner over 20 years ago and has had the pleasure and the privilege of examining in the UK and overseas. Lynn is a successful and respected teacher both in the UK and abroad and has successfully trained social dancers, competitors and many professionals in a variety of dance genres.
In 2010 after gaining a Masters Degree in Leadership and Management, Lynn began teaching full time at Buckinghamshire New University. This involved developing and leading a unique BA in Dance and Performance which also produces many IDTA professionals.
Lynn left the University in July 2016 and was appointed to the IDTA Board of Directors in the same month. She is passionate about dance at all levels, works extensively to promote the IDTA and support its members, and considers fairness and professionalism to be at the heart of her values.