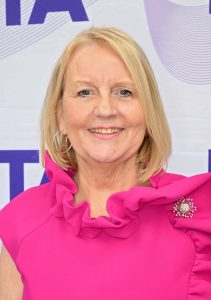 Lynn
Armsby
Director 2023-2024
Fellow and Ballroom Branch Examiner
A former British Latin Champion Lynn has extensive professional experience as a teacher, examiner, performer and choreographer. After turning professional Lynn spent many years performing Latin American cabaret and then choreographing production shows on some of the worlds' most exclusive cruise liners.
Lynn is an IDTA examiner and a Faculty Member for both Ballroom and Latin American. Working within HE she helped to develop a highly successful BA in Dance and Performance and was Course Leader for seven years.
Proud to be a Board Member of the IDTA, Lynn is the Board representative on both the Council for Dance, Drama and Musical Theatre and the joint awarding organisation's Racial Equality Working Group she works very hard to ensure that the IDTA is at the forefront of dance. Recently, she has been proactive in developing business for dance teachers through the IDTA's relationship with the Duke of Edinburgh Award Scheme.
Lynn was a former magistrate and holds a Masters Degree in Leadership and Management. Being a former magistrate and Court Chairman means that Lynn is confident to speak up when difficult decisions are made. She continues to teach both amateurs and professionals at her school in Cambridgeshire, and in her limited spare time loves to play Bridge.
Lynn says "I am passionate about the IDTA , am a life member and I am committed to supporting IDTA members all over the world to build their dreams."