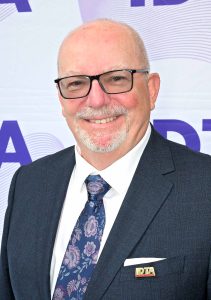 Phil
Diment
Director 2023-2024
Fellow and Ballroom Branch Examiner
Philip started dancing at the age of eight and competed in Juvenile, Junior, Amateur and Professional Competitions in Ballroom and Latin.
On becoming professional, he found that he enjoyed the teaching side of dancing and has been a member of the IDTA for over 40 years. Philip and his wife Christine have run a successful dance centre in Southampton for 39 years. The school's base is Medallist pupils, covering many dance styles and offering social events and dance holidays.
Philip has been teaching local groups of adults with learning disabilities and has taken them onto the Medal test system. He is now involved with a study by Southampton University on the benefits of Ballroom Dancing for Parkinson's disease sufferers.
Philip also works with many professionals, training them for teaching qualifications, and has trained teachers to Fellowship and Examiner level. His love of technique enabled Philip to fulfill his lifelong ambition to become an IDTA examiner in 1992.
Philip has been a member of the South East Area Committee for many years and is a past Chairman. He has been a member of the IDTA Board of Directors for many years and was President in 2005-2006 and 2012-2013, a role which he enjoyed immensely. Philip and his wife travelled the length of the country to meet with as many members of the IDTA areas as possible, and has enjoyed his connection with both the Ballroom and Theatre Branches.