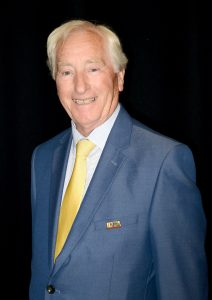 Colin
Donaldson
Director 2023-2024
Fellow and Ballroom Branch Examiner
Colin Donaldson joined the association in the early 1960`s, firstly as an amateur medallist and competitor, and then qualifying in the Ballroom branches in 1967. The association was then known as the IDMA. This was just before the DTA/IDMA merger which created today's International Dance Teachers Association.
Appointed as an examiner in ballroom branches in 1987, he has visited many different types of dance school over the years. He has also travelled to many different countries of the world including China, Hong Kong, South Korea, Malaysia, The West Indies, and all of Europe, to lecture and examine on behalf of the association. Since attending his first annual congress at the Blackpool Winter Gardens, this will be his 55th successive annual congress attendance.
Colin believes all IDTA members have different opinions and requirements, and need support within their Dance schools from the Board of directors, and the head office. He enjoys discussing ideas and projects with school principals around the country.
Elected to the board of directors in the year 2001 he served as president in 2008/2009, and has enjoyed his work as a director and past president, serving on the following committees and faculties:
Finance & general Purposes – LMCA – Overseas committee – Publicity committee – British Dance Council
Colin was also a founder member of the original committee, which now promotes on behalf of the association, the new IDTA medallist couples event. This event is gradually establishing itself around the country and proving very popular with all age group medallist competitors.
With his wife Jacqui and two IDTA qualified daughters, he runs two very different types of business in Hampshire. One section caters for all levels of dancer, from social beginners to medallists, and the other for top competitors in the Ballroom and Latin American genres.
The school is heavily committed to the medal test system and also supports the South East Area competitions, and the nationwide finals held in Blackpool each year.
Having completed 55 years of qualified membership with the IDTA, Colin seeks re-election to the Board of Directors to allow him to continue with the various IDTA projects currently in hand, and promises to keep rank and file members interests as his first priority.