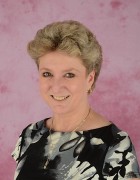 Dawn
Parker
Director 2022-2023
Fellow and Ballroom Branch Examiner
Dawn started dancing at the age of seven, and was introduced into the Medal test system through the classical sequence branch. Subsequently she took Medals in several branches, entered and partnered in IDTA Medallist competitions, and in 1974 won Medallist of the Year in Classical and Modern Sequence under the guidance of Derek Tonks and Beryl Bates.
Her desire to teach was very strong and as a result she qualified at 17 in Classical Sequence and Ballroom. She continued studying for further qualifications in other branches at John Knight Dance Studios. By 28 years old Dawn had attained Fellowships in Ballroom, Latin and Sequence, and at 29 was appointed IDTA examiner. She has been a full-time dance teacher all her working life.
She has been a part of IDTA since the beginning in 1967 and firmly believes it will remain the biggest and best by keeping up with modern trends and styles, and encouraging all ages and abilities to get involved in the subject. She has, and still continues to, fully support the Medal test system and has entered thousands of pupils in Ballroom, Latin, Sequence, Freestyle, Rock 'n' Roll, Country and Western, Cheerleading, Dance Exercise and Club Dance style tests.
She has trained numerous professionals in all branches. Dawn has been a member of the Midlands Area Committee for 14 years and is currently Vice Chairman; she is also the current Chairman of the Freestyle Faculty and has previously held titles in 2002-2004 and 2009-2010.
In 2006 she was elected onto the Ballroom Faculty and has thoroughly enjoyed working with colleagues on the revision of our technique book. Her love of examining, lecturing and adjudicating at all levels has not deteriorated, and she still loves the buzz of visiting and revisiting venues to receive a warm reception from all our members. She has thoroughly enjoyed being a member of the Board since 2004, and has become even more aware of how hard her fellow directors work to maintain our standards.
It has been an honour and privilege for Dawn to play a part in the continuing development of the biggest and best dance teachers association in the world, and especially to represent the Association as President from 2010-2011 and again in 2018-2019 - a role she thoroughly enjoyed and took very seriously. She would like to thank everyone who had faith in her. Dawn is always approachable and ready to offer advice and encouragement.