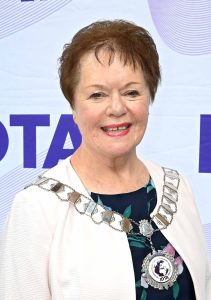 Yvonne
Saunders
President 2023-2024
Fellow and Ballroom Branch Examiner
Yvonne has a wide experience in Ballroom, Latin, Classical Sequence and Freestyle, both in teaching and as an Examiner for the International Dance Teachers Association. With her in-depth technical knowledge she now concentrates on training professional candidates for their qualifications whether in the UK or overseas.
She is a Director of the International Dance Teachers Association, and at present, the President Elect. Yvonne is a member of the Ballroom Faculty and Chairman of the Latin Faculty, both of which she has serviced as Chairman at previous times. Saunders Snippets is a regular feature in the Dance International magazine.
In 2019, Yvonne received the Carl Alan Dedicated Teachers Award for Ballroom and Latin, which was a great honour from the Ballroom Dancing Industry.
Yvonne continues to teach at the world renowned studio, Dance Options Cheam.