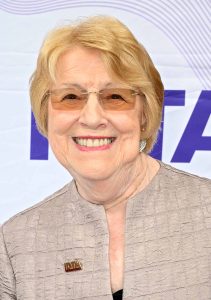 Barbara
Sharples
Director 2023-2024
Fellow and Theatre Branch Examiner
Barbara began dancing, at the age of 7 years, and trained in all styles of Theatre Dance up to Professional level, as a competitor, teacher, choreographer and adjudicator.
She was Principal of her own successful school for 47 years, with many former pupils achieving high accolades including a Winner and finalists in Miss Dance of Great Britain, and the World Tap Championship.
Barbara is a Director and Examiner of the IDTA, Member of the Awards Committee and IDTA delegate for the TDCI. From the 1970s to the 2020s she has been associated with the choreographing and presenting of new syllabus work.
She was very honoured to receive the Classique de Danse Award in 2007, the IDTA Distinguished Service Award in 2011 and two Carl Alan Awards in 2002 and 2014.
In 2011 Barbara, with the support of the IDTA, launched a Choreographic Award to promote and encourage young aspiring choreographers. This Award covers all Dance genres and continues to draw entries from the UK and overseas. The finals are held at the Royal Northern College of Music in Manchester.
With many years' experience in the Dance World and awareness of constant changes in both Ballroom and Theatre, Barbara once again asks for your support to enable her to serve all members and promote the IDTA Worldwide.