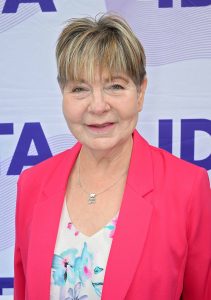 Denise
Skinner
Director 2023-2024
Fellow and Theatre Branch Examiner
Denise trained at the Hylton- Bromley Theatre School and went on to dance and act professionally in Shows, TV and cabaret throughout this country and overseas. She then opened her own school which she runs successfully with Cheryl Dodd.
Denise is a senior examiner, British federation adjudicator and a qualified drama teacher.
The latter role helping when she co wrote the IDTA's Musical Theatre Syllabus. Denise enjoys promoting the syllabus to both Ballroom and Theatre area meetings throughout the country and has lectured extensively overseas including China, New Zealand, Cyprus and Italy. She is also current chairman of the Theatre Craft faculty and was responsible with the other members for the creation of the syllabus.
Denise has always been involved in many aspects of the association having served on the Theatre Council and currently on her second term on the QAP.
She is a former NW area chairman and has been involved in the International Theatre Dance Awards for many years latterly as Compere.
Denise is passionate about her commitment to the IDTA and the welfare of it's members.