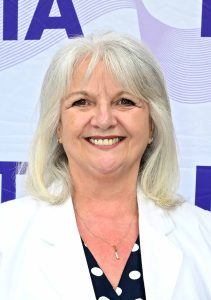 Wendy
Heywood
Director 2023-2024
Fellow and Theatre Branch Examiner
My dance journey began aged 3 when I first attended the Lupino School of Dance and it has continued ever since.
I completed exams in all Theatre genres, in addition to performing in competitions, show productions and TV. Aged 16, I qualified as an Associate of the IDTA and started my teaching career with Miss Lupino and later became principal of my own school. I now train Theatre and Freestyle students from Preparatory to Fellowship.
I have always been an active member of the IDTA, attending area meetings and as a past Chairman of the North West committee. The areas are invaluable for connecting with other members and for gaining detailed knowledge of technique and syllabus from the IDTA Faculties.
I am also proud to have been on the organising committee of the IDTA Theatre Dance festival for 35 years, and more recently the IDTA Theatre Awards. In 2009, I was honoured to be appointed as an examiner for the IDTA and this brought another perspective to my dance life. I have thoroughly enjoyed building relationships with other teachers and members and also being able to experience the talent that our association produces.
I am passionate about the joy that dance brings and firmly believe that it should be available to everybody, whatever their age or ability. I recognise the significance of the moments of achievement and success and know that for many people around the world, being a part of the IDTA can have a multitude of benefits.