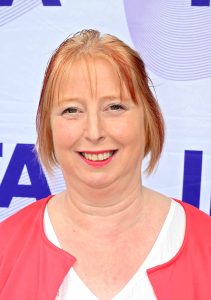 Dallas
Chapman
Director 2023-2024
Fellow and Ballroom Branch Examiner
I have had the honour of being an IDTA Examiner for over 30 years and I have met marvellous teachers' home and abroad. I cover both Ballroom and Musical Theatre subjects. I have a musician/guitar teacher as a partner therefore music is always in the family.
Beginning in Ballet and Drama which I still enjoy, I currently run in Luton. Rayner's that keeps the name of my main professional mentor the late Jack Rayner. I have been there for forty years this year.
Starting my dance journey with former champion Yvonne Domican who partnered Raymond Draper. From the age of 8 I took IDTA medals, gaining experience in medallist and open competitions. A lack of male partners turned my eye to teaching. Which was my calling.
I have worked with IDTA mentors: Ena Allwright, Judy Walsh, Bill Phillips, Ken Bateman, and Jane Tumelty to name just a few.
As Freestyle appeared, I became a member of the ADFP. Holding championship/chairperson licence with both them and the BDC.
I was voted onto the IDTA Sequence faculty and in that role, I use facebook to give Sequence more recognition and help teachers to get their schools known to the public in all subjects.
The IDTA gave me access to the Bucks New University gaining a Foundation degree in Professional Studies and a Post graduate diploma in leadership and management.
IDTA teachers are a big family, and I feel that more than ever we need to work together.