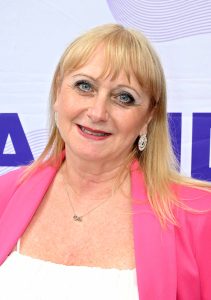 Loraine
Hastings
Director 2023-2024
Fellow and Theatre Branch Examiner
I feel very proud to be a lifetime member of The International Dance Teachers Association. Having started dancing in IDTA schools from the age of 3, the organisation has been part of the very fabric of my life and dance has been a passion instilled in me from day one.
Having qualified as a teacher 42 years ago and opening my own Theatre and Freestyle school, I have been very fortunate to be able to turn my passion into a wonderful career within our Association. I thoroughly enjoy all aspects of my role within it: from training children, teachers and prospective examiners, to examining and lecturing all over the world.
Thanks to first class training and mentoring from Miss Yvonne Gout, 27 years ago I was delighted to take the next step in my IDTA career and qualify as a Theatre and Freestyle Examiner.
After joining The Freestyle Faculty 18 years ago, it is now an honour to chair the Faculty and also be a member of The Quality Assurance Panel maintaining standards and developing technical faculties.
My involvement in shaping the future of the IDTA developed further through being a co-writer of The Street Dance Guide, Freestyle Grades and more recently The Intermediate Freestyle Syllabus, travelling and representing The IDTA as examiner, lecturer and ambassador , both in the UK and Overseas,
I was nominated twice for a prestigious Carl Alan Award, one of the proudest moments of my life was winning the Carl Alan Award in the Freestyle Teachers category in 2016.
I will always strive to give my very best to ensure that our Association works hard for each and every member, is a pioneer of forward thinking in the world of dance and continues to build from its position of strength globally.