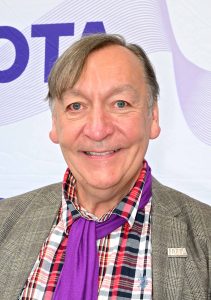 Phil
Winston
Director 2023-2024
Fellow and Theatre Branch Examiner
Phil Winston is a Fellow and Examiner of IDTA and has served extensively on committees and faculties on behalf of the Association. He is the current chairperson of the Contemporary Modern Jazz Technical Faculty and has previously served on the Conference Arrangements , Publicity and Finance and General Purposes Committees .
Phil has, over the years, established a reputation as a director/choreographer travelling worldwide staging productions for stage and television, also crossing boundaries into the world of ice dance and figure skating indeed working with European and Olympic Champions.
He has been proud to serve as the President of the IDTA and honoured to have been awarded four Carl Alan Awards and also presented with two Le Classique de Danse Awards.
Phil is principal of Theatreworks College, established to prepare professionals of the future. Many graduates now having successful teaching and performing careers in their own right.
Phil is totally committed to IDTA and its continued growth worldwide. If re-elected Phil would be proud to work alongside all Ballroom and Theatre members in promoting the ideals and standards of the IDTA.